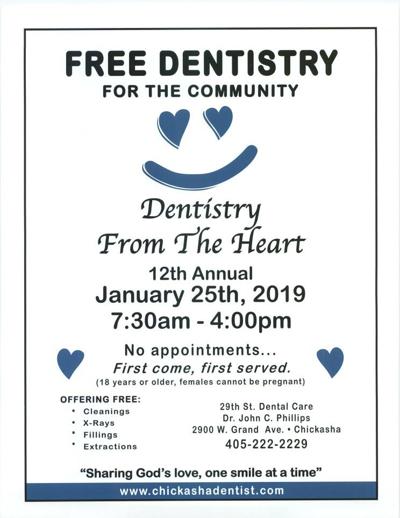 This month, Dr. John Phillips will spread goodwill and cheer to the local community with his 12th annual Dentistry From The Heart event. 
Dentistry From The Heart is an gift of free dental exams, x-rays, fillings, extractions and cleanings to those who would not otherwise have access to these important treatments. Services will be rendered to adult patients on a first come, first served basis from 7:30 a.m. to 4 p.m. on Friday, Jan. 25 at the 29th Street Dental Care office located at 2900 Grand Avenue in Chickasha. No children or pregnant women can be treated.
During the event, Dr. Phillips and his team will offer dental services at no charge. Dr. Phillips and his skilled staff hope to make a difference in the lives of those who come to them for help, and they will do whatever they can on Dentistry From The Heart to relieve pain and fix dental problems. Patients who need ongoing care or have problems which cannot be corrected in one day will be referred to area community clinics, where they can receive ongoing treatment at a low or no cost.
At last year's event, Dr. Phillips and his team of volunteers served over 225 people. For this year's event, Dr. Phillips has recruited additional dentists and volunteers from all over the state so he can accommodate the anticipated increase in number of participants. Dr. Phillips is hoping to serve more than 300 people this year. Since its inception, Dr. Phillips and his volunteers have treated over 3,000 patients and provided over 2.5 million dollars in free dental care.
For more information about the Dentistry From The Heart event, call 405-222-2229, or for general practice information, please contact 29th Street Dental Care at 405-222-0222 or visit www.chickashadentist.com
SOURCE Chickasha News
Facebook Event Page: www.chickashanews.com